IPEM 2020: Discussing major trends shaping the secondary industry
In an era defined by digital transformation and technology-driven disruption, events and conferences on these topics will continue to attract big crowds in 2020. Despite the significant advances in digital communications from email, messaging, video-conferencing and the like, we have yet to replace the nuances in relationship building that come with face to face meetings. At TempoCap we pride ourselves on building and maintaining close relationships, not only with founders, but also fellow investors and our Limited Partners (LPs).
This week we're attending IPEM, the annual private capital trade exhibition held at the Palais des Festivals in Cannes, for the second time. IPEM brings together more than 350 LPs and 400 General Partners (GPs) from over 40 countries for three days to discuss investments and partnerships or to broaden their network.
Our focus is to showcase the tremendous progress we've made over the last 36 months, with landmark investments and exits across the UK, France and Germany; and to meet with our existing and potential new LPs. We're also excited to connect with our fellow GPs in the technology ecosystem, and to exchange notes on trends we are seeing in the market. With 2,400 attendees from a variety of firms and industries we also get the chance to look beyond our own investment mandate – fast growing technology businesses – and to hear what others have learned across different industries, asset classes and geographies.
On the second day of the conference, TempoCap Managing Partner Olav Ostin will be speaking at the Venture Summit, alongside other leading European venture funds. We're also looking forward to the Secondary Market Update; as a leading player in the direct secondary space, we have unlocked some of the best growth-stage technology deals in Europe, and the session will give us an opportunity to discuss the secondary cycle, latest innovations and structuring practices.
Lastly, we are keen to discuss some of the big technology trends we expect to shape the European venture and growth space in 2020.
As we enter a new decade, the increasing number of devices and resulting network traffic, and complexities in managing cybersecurity risks, are a particular topic of interest to us, and a great opportunity to invest. We expect to see unprecedented adoption of artificial intelligence solutions by Chief Information Security Officers (CISOs) in large enterprises, to solve these real business challenges. AI and machine learning have moved through the hype cycle over recent years and is already adding enormous value to organisations everywhere.
We are now seeing emerging players offering advanced systems that are driven by machine learning and support process automation, threat detection and verification as well as countermeasures, reducing the number of manual tasks required by security engineers and increasing productivity of security organisations.
At the end of 2019 we closed our 6th and 7th deal in the cybersecurity space, with Dedrone, the market leader in drone detection and counter drone technology, and one more deal that we expect  to announce soon. We also successfully exited our portfolio company Ercom to Thales during the year, and expect to continue to play a key role in shaping the European security landscape going forward.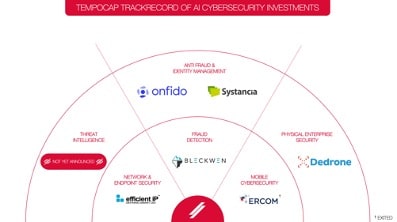 We look forward to sharing more thoughts and to catching up with existing and new LPs at IPEM. We can be found at Stand G-17, so feel free to stop by and say hello if you are attending.